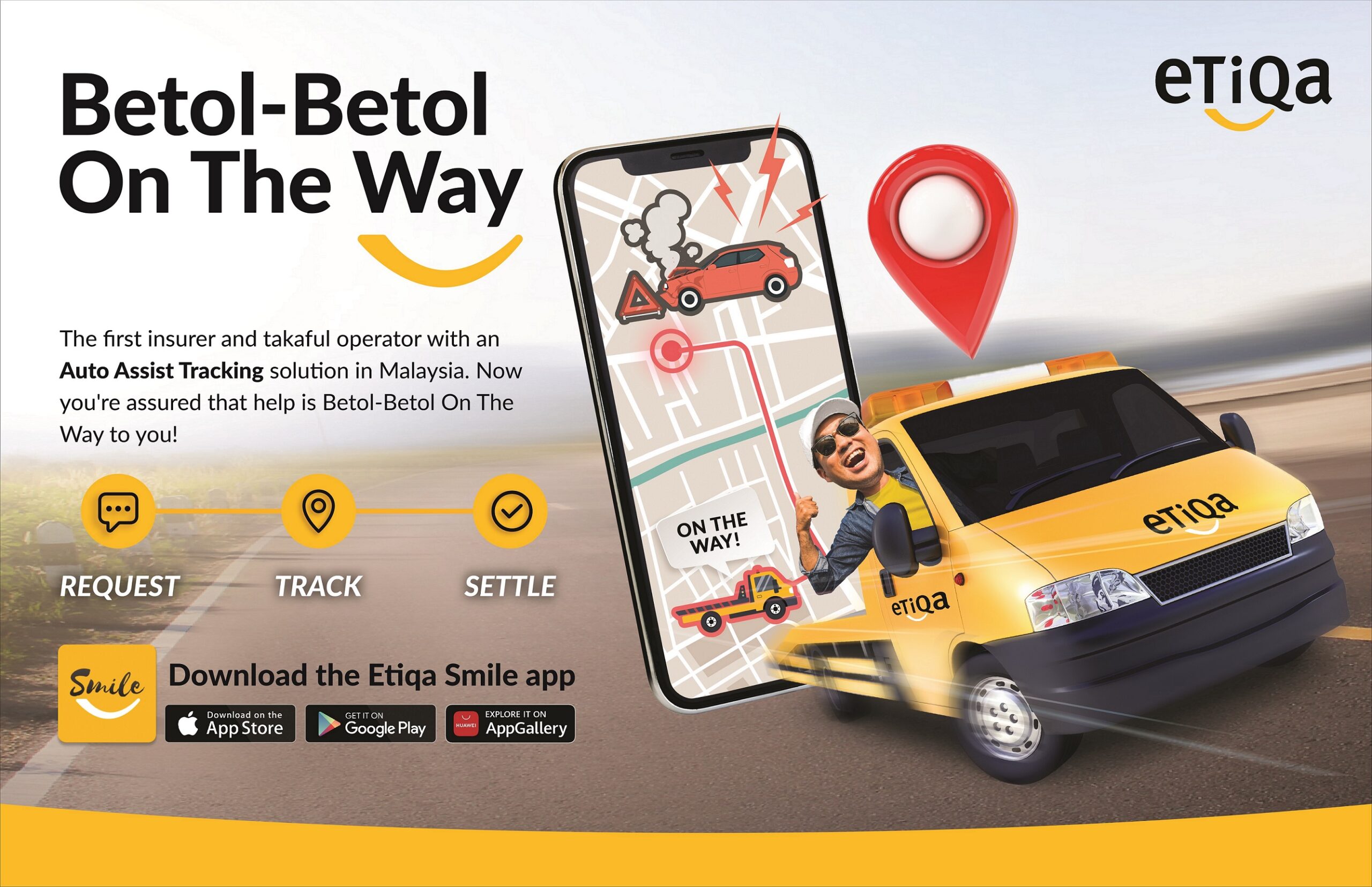 Etiqa today launched Malaysia's first Auto Assistance Location Tracker that allows customers requiring roadside assistance to track the location of technicians or tow trucks in real-time.  The service is available via the Etiqa Smile mobile application that also allows ustomers to report a vehicle incident, breakdown, or accident, and track the status of SOS requests. Incidents include a flat battery, a punctured tire and even running out of petrol. The Auto Assistance Tracking solution is available to customers with an Etiqa motor policy or certificate, as well as customers of other motor insurance or takaful providers for a fee.
To access the Auto Assistance solution, customers simply need to tap the Auto Assist Care button on Etiqa's Smile app, and describe the issue that they have with their vehicle to the Etiqa Auto Assist Care (EAAC) center.  The customer then pinpoints their current location, and an EAAC consultant will send an SMS link to the customer allowing them to track the tow truck or technician that has been assigned  via a live map. 
Customers are also able to contact the EAAC via Quick Response (QR) code, WhatsApp, Etiqa Live Chat at www.eti.qa/livechat or the Etiqa Careline at 1800886491 in order to get a similar service. 
In a joint statement, Shahrul Azuan Mohamed, CEO of Etiqa General Takaful Berhad and Fukhairudin Mohd Yusof, CEO of Etiqa General Insurance Berhad said, "We are pleased to offer the Auto Assist Tracking solution for our customers.  We understand the nerves that people might feel when being confronted with a situation that requires roadside assistance.  That is why we have come up with a Fast & Easy solution whereby customers just have to tap on an App or scan a QR code to request for assistance.  Then they can have peace of mind knowing exactly where the technicians or tow trucks are, and when they may arrive," they added.
For more information on Etiqa's Auto Assistance Solution, please visit www.etiqa.com.my.